These x-ray pin-ups (or "x-rayted" pin ups) comprise quite literally the most revealing calender I've ever seen.Eizo is a medical supply company that just happens to have a very exotic and creative marketing department. Either that, or a bunch of fashion models are being examined after taking a bad fall on the runway.Although these x-ray pin-ups make up just another calender to make your girlfriend squirm, they offer an interesting take on sex-appeal,comedy and creepiness.
Implications – The X-Ray pin up calendar goes deeper than the usual nude, offering the inside look into the women of your dreams. Peculiar yet interesting, the unique Eizo: Pin-Up Calendar 2010 is certainly worth looking at.
(source: http://www.trendhunter.com/trends/x-ray-pin-ups)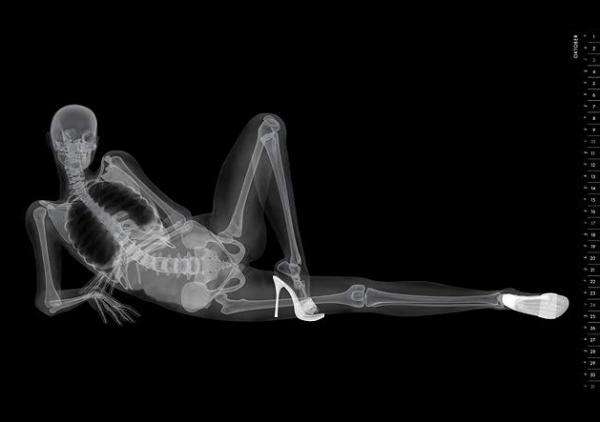 Idoya Lahortiga
and
Luk Cox
, share the same passion for science & biology, art & scientific visualization and have created together a world where all these are wonderfully blend together. The name of this world is
Somersault18:24
.
believe that effective science communication is of crucial importance for the advancement of science and that it will make our world a better place.
By simply following this
link!:
http://www.somersault1824.com
The exhibition "Leonardo Da Vinci: The Man, The Inventor, The Genius" has been hosted in more than 20 cities in the world over the past few years and we now welcome it in Athens until the 16th of February 2014 where we will admire an illustration of various aspects of his life and his work.
The exhibition includes more than 40 interactive, three-dimensional models of inventions and machines: flying machines, models based on hydraulics and the mechanical sciences, as well as, military equipment.
Opening reception of "The Romantic Disease: An Artistic Investigation of Tuberculosis" – a brand new solo exhibition by Anna Dumitriu showing installations and sculptures made with strains of mycobacteria, transformed historical artefacts, and textiles that our reveal the complexities of Tuberculosis (TB) and our responses to the disease. The show explores the strange history of TB from artistic, social and scientific perspectives and covers subjects such as superstitions about the disease, its literary and romantic associations, the development of antibiotics and the latest research into whole genome sequencing of bacteria.
Artworks in The Romantic Disease" are made with a combination of textile art and biological matter including strains of Mycobacterium vaccae, M. bovis and M. tuberculosis that have been sterilized prior to exhibition. Re-crafted historical artefacts and objects are added to the mix. For example, Dumitriu has developed a series of textile installations stained with bacteria dyes patterned using antibiotic 'resists', which focus on how early 'antibiotics', such as Prontosil, were derived from chemical dyes. For "Where there's dust there's danger" she has created a series of tiny felt lungs from wool and dust into which she has incorporated the DNA of killed Mycobacterium tuberculosis produced in a Containment Level 3 Laboratory (the highest level for handling bacteria). Around a century ago dust was incorrectly thought to be one of the primary causes of the disease. Amongst the altered historical artefacts an intricately carved and engraved Pneumothorax Machine can be found, previously used to collapse lungs of unfortunate patients 'to give them a rest'.
The exhibition has been developed through Anna Dumitriu's ongoing artist's residency at The University of Oxford with the UK CRC Modernising Medical Microbiology Project, and is funded by The Wellcome Trust.
The show is also open 16th January 2014 – 24th March 2014, daily 12pm (noon) – 9pm
There will also be a major one day symposium on World Tuberculosis Day on 24th March 2014. with key speakers in the field of TB and press conference will be held at Waterman's for World Tuberculosis Day on 24th March. The latest research into this disease, which currently affects one third of the World's population, will be discussed in a highly accessible way.
www.romanticdisease.eventbrite.co.uk
As well as the exhibition and symposium, The Romantic Disease has an 'open lab' workshop with Anna Dumitriu, Dr Simon Park, Dr Melissa Grant and special guests. This will run on five Saturdays, 11am – 5pm, on 15th and 22nd February, 1st, 15th and 22nd March 2014 and visitors on those days will see the group at work in the gallery.
To attend the open lab see www.openlabworkshop.eventbrite.co.uk
Watermans, 40 High Street, Brentford, West London, UK, TW8 0DS
http://annadumitriu.tumblr.com/RomanticDisease
The anatomist and physician Andreas Vesalius rebelled against the medical establishment to set groundbreaking new standards for modern anatomy.
you want to learn more about how Vesalius' dedication to scientific inquiry, his passion, and his perfectionism made his work unforgettable?
Visit the website created by KARGER, Medical and Scientific Publishers, about Andreas Vesalius, here: Andeas Vesalius
Six artists, six countries.
B-Floor Theatre, Lêna Bùi, Elson Kambalu, Miriam Syowia Kyambi and James Muriuki, Zwelethu Mthethwa, Katie Paterson.
What happens when you set up six artist residencies in different medical research centres throughout the world? This intimate exhibition showcases a diverse body of work from the artists who worked in research centres in Kenya, Malawi, South Africa, Thailand, Vietnam and the UK.
The artists were invited to spend at least six months exploring the activity of researchers and produce new work in response to their experiences. The result is a series of moving, challenging and humorous works, richly varied in form and tone. They record journeys taken within the complex realm that lies between scientific processes and local communities, often on the frontlines of communicable diseases.
Please note that the artworks Voracious Embrace and Invisible Currents by Lêna Bùi have been temporarily removed from display for conservation reasons.
For more information about the exhibition, visit the link of Wellcome Collection here